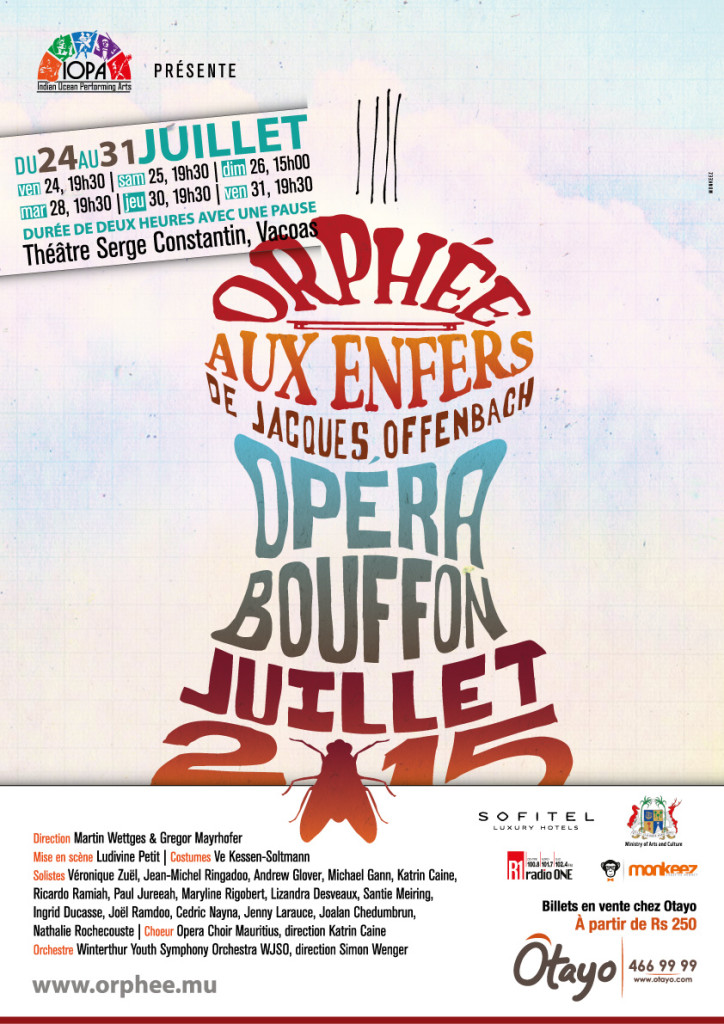 Orphée aux Enfers (Opéra)

Opéra-bouffon in two acts and four scenes (in FRENCH)
Libretto : Hector Crémieux and Ludovic Halévy
Musique : Jacques Offenbach
Production from Indian Ocean Performing Arts Ltd
Duration ca. 90 min. (1 intermission)
Opening Night on Friday 24th of July 2015 in Serge Constantin Theater, Vacoas
Conductors Martin Wettges, Gregor Mayrhofer
Stage Director Ludivine Petit
Costume Design Ve Kessen-Soltmann
With Véronique Zuēl-Bungaroo, Jean-Michel Ringadoo, Katrin Caine, Ricardo Ramiah, Andrew Glover, Michael Gann, Maryline Rigobert, Cedric Nayna, Lizandra Desvaux,
Paul Jureeah, Santie Meiring, Joel Ramdoo, Nathalie Rochecouste, Jenny Larauce
Opera Choir of Mauritius, led by Katrin Caine
Youth Symphonic Orchestra from Winterthur (Switzerland), led by Simon Wenger
---
Shows:
Friday 24th July 2015 7:30 p.m.
Saturday 25thJuly 7:30 p.m.
Sunday 26th July 3:00 p.m.
Tuesday 28th July 7:30 p.m.
Thursday 30th July 7:30 p.m.
Friday 31st July 7:30 p.m.
---
The work, first performed in 1858, is said to be the first classical full-length operetta. It is an irreverent parody and scathing satire on Gluck and his Orfeo ed Euridice and culminates in the risqué Galop infernal ("Infernal Galop") that shocked the audience at the premiere in Paris.
In Orphée aux Enfers, the magician Jacques Offenbach turns the world upside-down. Every personality, either living on Earth, in the Olympus (the habitation of the gods of the Greece mythology) or in Hell (that of the god Pluto), wants to compel his good will onto his compatriots.The first of Offenbach's outrageously funny 'send-ups' of Greek mythology, this is an unashamedly Gallic version of the classic legend of Orpheus's pursuit of his wife Eurydice, who is carried off to Hades by Pluto – much to the annoyance of Jupiter. A highly disrespectful romp, it involves nymphs, shepherds, gods and goddesses, with the fun reaching its climax in the riotous revels of the celebrated "Can-Can". A lively and highly enjoyable show for both performers and audience, with many world-famous tunes.